The 2017 Grammy Awards: The Best + Worst Moments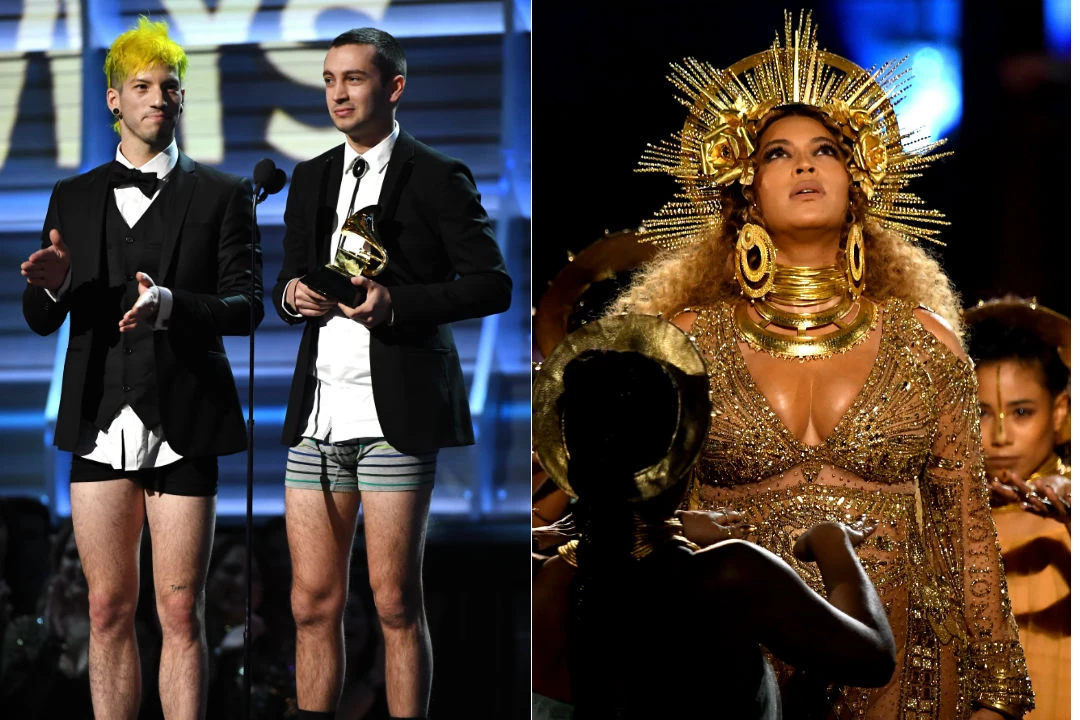 Music's biggest night — the 2017 Grammy Awards — frequently hit it out of the park, but couldn't escape a handful of strikeouts too.
The James Corden-hosted show included huge performances by Beyonce and Adele, a landmark victory for Chance The Rapper and a funky tribute to The Bee Gees. Some experiments worked, others were disasters, but no one could have reasonably accused the show of being a boring one.
Look back at the best moments and worst moments from the 59th annual Grammy Awards.
James Corden's (scripted) intro pic.twitter.com/JMbTD6CNr9

— Tatiana King Jones (@TatianaKing) February 13, 2017
BEST: James Corden's introduction. Corden's love of entertainment and the arts shined through, and his formal welcome as Grammys host delivered accordingly. It was funny, included a spitfire rap and was a total departure from hosting duties as we've come to know them.
Pants have come off at the #GRAMMYs. Here's @twentyonepilots accepting their award for best pop duo/group performance pic.twitter.com/ESDJenKGB3

— Variety (@Variety) February 13, 2017
WORST: The Twenty-One Pilots win for Best Pop Duo/Group performance — not because "Stressed Out" was undeserving, but because the duo accepted the trophy in their underwear. Sure, the backstory was sweet, but the sentiment still felt a liiiittle desperate.
Best New Artist @chancetherapper #GRAMMYs #ForTheCulture pic.twitter.com/kZJWUXw3zA

— The Made Brand (@TheMadeBrand) February 13, 2017
BEST: Chance The Rapper won Best New Artist, marking a huge victory for streaming-only artists. The Coloring Book artist petitioned the academy to include streaming-only acts as official contenders at the 59th show. It was definitely worth his while.
The Chainsmokers accepting an award on the behalf of David Bowie… the Grammys are such a fucking joke pic.twitter.com/t83rHArepO

— Common Gay Boy (@CGBPosts) February 13, 2017
WORST: That David Bowie's "Blackstar" won the Award for Best Rock Song was a beautiful moment — that The Chainsmokers accepted it on the late artist's behalf sort of sullied the moment. The Chainsmokers know how to write a hit, but Bowie was an icon of counterculture. The Chainsmokers, on the other hand, are products of the system.
Watch @Beyonce's stunning #GRAMMYs performance immediately. https://t.co/gNrZnaq5Dh pic.twitter.com/U2GGFCkpdQ

— The FADER (@thefader) February 13, 2017
BEST: Beyonce's performance, obviously. And that her mother, Tina, introduced the set was the icing on the cake. The delivery was elegant, boundary-pushing and delivered chills as relentlessly an industrial freezer. No more needs to be said: It was truly iconic.
James Corden's star-studded "Carpool Karaoke" closes with a Blue Ivy cameo! #GRAMMYs pic.twitter.com/BrGD6ej1GI

— Mashable (@mashable) February 13, 2017
WORST: Corden's Carpool Karaoke bit. It was cute, but, like, we get it. Also, nobody knew the lyrics to "Sweet Caroline."
Katy Perry's performance of Chained to the rhythm. She did that. pic.twitter.com/bgHe16MmB4

— GiNA ️‍ (@rihftperry) February 13, 2017
BEST: Katy Perry's "Chained to the Rhythm" performance. Sure, the song's political statements might have seemed lukewarm upon its initial release, but somehow, the dizzying performance — which featured spinning white fences and a mockup of the constitution — gave it more powerful context.
Metallica's mic goes out during #GRAMMYs performance https://t.co/ruIyRemXev pic.twitter.com/t0MaWgtPRl

— Hollywood Reporter (@THR) February 13, 2017
WORST: Lady Gaga's performance with Metallica sounded incredible — or, at least some of it did. Viewers didn't get the full scope of the "Moth Into Flame" collaboration, as James Hetfield's microphone went spontaneously haywire through the set's first few verses. Thankfully, someone in production eventually got their act together and fixed the glitch, but the error was still pretty glaring.
#GRAMMYs: @Adele starts her George Michael tribute over, says "I can't mess this up for him." https://t.co/g0DflCvEzK pic.twitter.com/ByvdZO7722

— Hollywood Reporter (@THR) February 13, 2017
BEST: Adele's genuine fandom of the late George Michael made up for the fact that she messed up…again. Adele tackled Michael's 1996 "Fast Love" with a slowed down rendition that started off rocky, reminding fans of her unfortunate 2016 flub. But Adele ultimately collected herself and delivered something spectacular.
Let @GregKurstin speak!!!!!! #Grammys

— Perez (@ThePerezHilton) February 13, 2017
WORST: Greg Kurstin got cut off. Adele, who won Song of the Year for "Hello," delivered a lovely tribute to her co-writer, Kurstin. And just when she turned to offer Kurstin the mic, Grammys production shut him out, and the snub amounted to some rightful booing from the audience.
.@rihanna brought a flask to the #GRAMMYs so she wins. #etalk pic.twitter.com/WlpmfmBVFA

— etalk (@etalkCTV) February 13, 2017
BEST: Rihanna's flask. Truthfully, we could have all used one.
The moment Adele Kanye'd herself and said, Imma let myself finish but Beyonce had the Album of the Year #Grammys pic.twitter.com/8ohJemJOEk

— Jarett Wieselman (@JarettSays) February 13, 2017
BONUS BEST: Adele conceding her Album of the Year win to Beyonce was unprecedented humility. "The way you make my black friends feel is empowering," Adele said as both women cried.
WHAT A SHOW.
The Best of the 2017 Grammy Awards Red Carpet:

Source:
The 2017 Grammy Awards: The Best + Worst Moments