Beyonce's Surprise Album Inspires Plenty of Twitter Reactions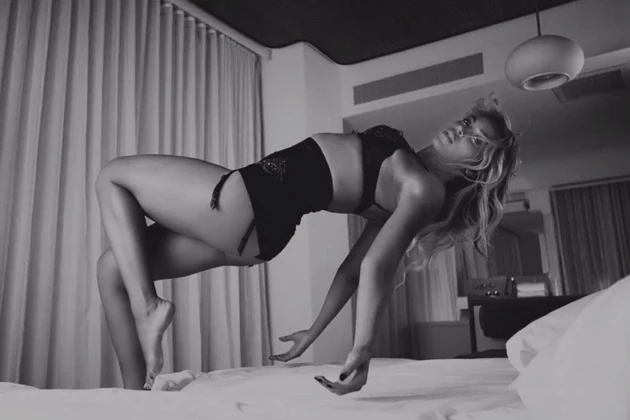 Here's some Beyonce math for you: 14 new songs + 17 new videos = millions of tweets! The release of her new album was a huuuuuge surprise today (Dec. 13), but the Internet's epic reaction to it? No surprise at all!
So of course Queen Bey is the queen of Twitter right now, singlehandedly owning the Trending Topics list. Even baby Blue Ivy, who has a featured spot on one song, has been trending for seven hours (and counting)!
Epic meltdowns, shade throwing, comparisons to Santa and/or Jesus — you name it, people have tweeted about it. Even celebs like Katy Perry and Demi Lovato are freaking out! Here are some of our favorite Beyonce tweets (so far):
Things that happened while I was asleep last night: – Dog barked many times -I drooled -Beyonce released a surprise album alright

— 恵み (@Lxzmeow) December 13, 2013
She said she's sick, but we all suspect she just called off "Beyonce".

— Meeting Boy (@MeetingBoy) December 13, 2013
Y'all woke up crying like this chick cuz Beyonce surprised y'all with an album or nah? pic.twitter.com/0u8Wz3sASU

— IG: jayuncut (@JayUncut) December 13, 2013
I need room for Beyoncé's new album pic.twitter.com/fBaBYMZxuU

— DeMvrcus (@MarcTooCold) December 13, 2013
if u listen to beyonce's new album backwards it tells u to shop at bloomingdales after christmas & use coupon code BLUEIVY for free shipping

— samir mezrahi (@samir) December 13, 2013
HOW IS BEYONCE GONNA RELEASE A SUPRISE ALBUM RIGHT DURING EVERYONE'S FINALS? SHES TRYING TO DESTROY THE WHOLE SCHOOL SYSTEM #ILLUMINATI

— PIZZA PIMP (@mynameischapman) December 13, 2013
Friday 13th and Beyonce surprised every woman on the planet with another album? NO MAN is getting lucky tonight.

— MIKILL PANE (@MikillPane) December 13, 2013
Got a text from my dad at 7:40 this morn asking if I was excited about the new Beyonce album. Shoutout to dads on the internet, much respect

— Lauren Mitchell (@lau_v_mi) December 13, 2013
Oh cute… but Beyonce. RT @britneyspears: I have a sneak peek of the #IAmBritneyJean documentary for ya right here: http://t.co/qOl9ObrN8b

— Minerva Mirabal (@Sanniel) December 13, 2013
Don't talk to me today unless it's about @Beyonce THANX

— Katy Perry (@katyperry) December 13, 2013
#BlueIvy got more features and hit songs than her auntie #Solange. That ain't right!

— Jarrard Goldsmith (@ajgpromo) December 13, 2013
Blue Ivy already has a song, North West is probably mad. Fendi leather sweatpants mad.

— MARC (@TOMFORDISMYDAD) December 13, 2013
Blue Ivy has two features already and you're still passing out your mixtapes at the mall. Let that sink in

— cece. (@_jadoreCECExo) December 13, 2013
HOW IS ANYONE NOT TWEETING ABOUT #BEYONCE RIGHT NOW?!!?!?

— demetria lovato (@ddlovato) December 13, 2013

Source:
Beyonce's Surprise Album Inspires Plenty of Twitter Reactions