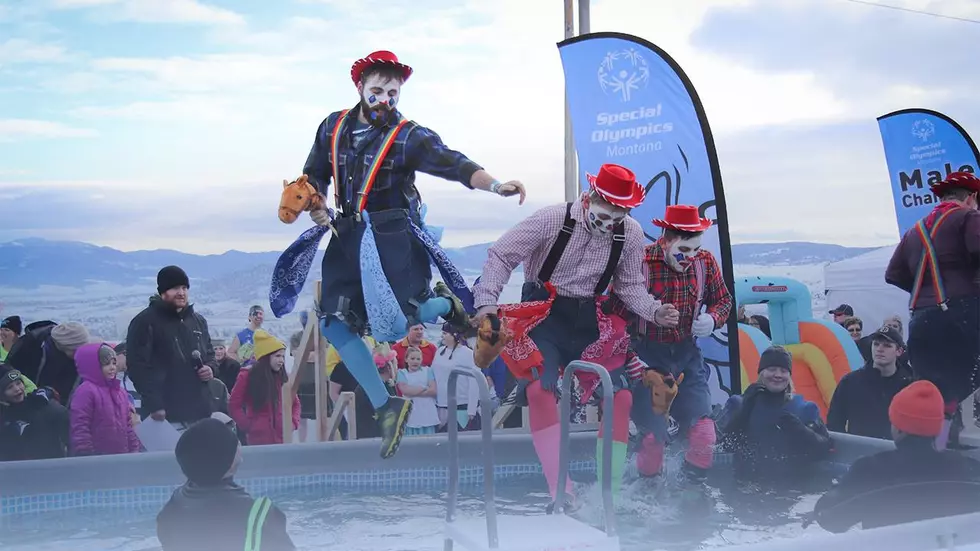 Bozeman's 2021 President's Polar Plunge Goes Virtual
facebook.com/plungemt
An annual event to support Special Olympics Montana athletes, the President's Polar Plunge, is going virtual this year.
Normally, the President's Plunge takes place at the East Gallatin Recreation Area at Bozeman Beach. Due to COVID-19 safety precautions, organizers have made the decision to create a virtual plunge for 2021.
To support the Virtual Presidents Day plunge this year, local law enforcement will be taking an icy shower provided by a Bozeman Fire Department truck.
Local law enforcement hopes to raise funds and awareness and get the community involved in this year's Virtual Presidents Day Plunge. Officers from all over the valley are leading by example by "getting cold and having fun" and letting Special Olympics Montana athletes in the Gallatin Valley know that they love and support them.
If you want to be a part of the virtual President's Day Polar Plunge this year, there are many ways to get involved. You can take the Virtual Plunge whenever and however you like.
You could take a nice ice bath, or dump a bucket of ice water over the top of your head. Honestly, you can get as creative as you'd like. Make sure to take a photo or video and share your Virtual Plunge for a chance to win the award for the most creative plunge.=
A compilation of videos will be aired on Polar Plunge Montana's Facebook page on Feb. 13.
Everyone is welcome to join in for a chance to raise funds to benefit local Special Olympics Athletes, many of whom will be participating in the virtual plunge as well. This year get Freezin' for a Reason for the athletes of Special Olympics Montana!
To register or for more information, click here. The Presidents Plunge will air February 13, 2021, on the Polar Plunge Montana Facebook page.
KEEP READING: What were the most popular baby names from the past 100 years?