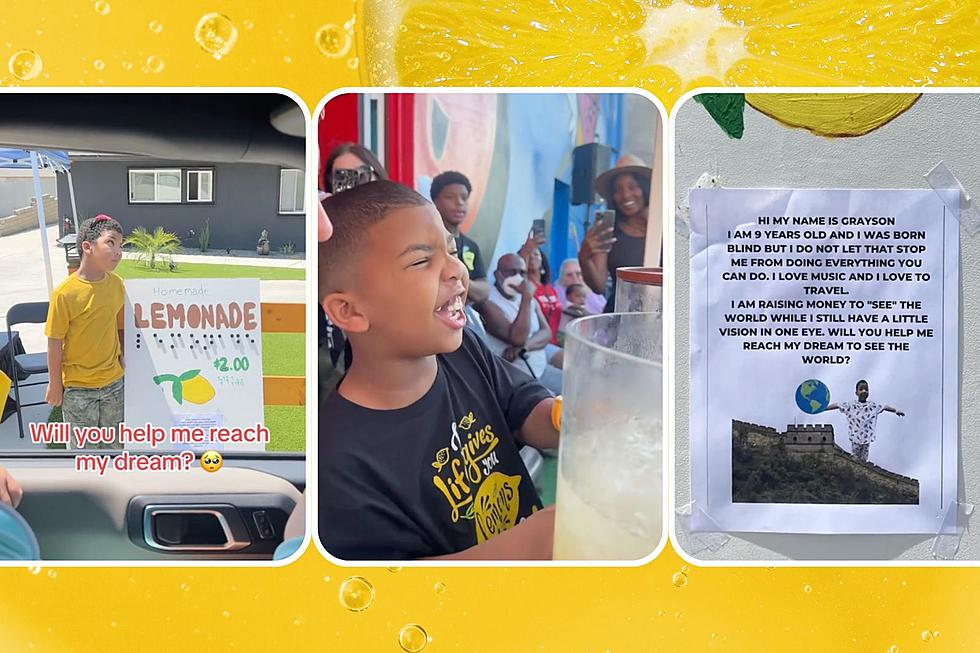 Lemonade Stand Run by Determined Blind Child Is Making Big Bucks
Charlie Rocket via TikTok/Canva
Grayson Roberts may be blind, but that is not stopping his dreams of seeing the world.
Who Is Grayson Roberts?
Grayson recently opened a lemonade stand in his California driveway.
Nearby is a sign introducing him to prospective customers with the message: "Hi, my name is Grayson. I am 9 years old. I was born blind but I do not let that stop me from doing everything you can do."
The sign goes on to explain Grayson's love for music and travel.
"I am raising money to 'see' the world while I still have a little vision in one eye," the sign continues. "Will you help me reach my dream to see the world?"
How Did The Lemonade Stand Become Popular?
Grayson's Lemonade Stand started to draw attention from those outside of his neighborhood once social media personality and philanthropist Charlie Rocket pulled up in front of his house.
Rocket runs the Dream Machine Foundation, a non-profit designed that relies heavily on the reach of social media to support positive causes.
"Maybe we can help get some more customers here," Rocket tells Grayson in a TikTok video that has now been viewed nearly 3 million times.
After helping him promote the lemonade stand, Rocket organized an online campaign and a special in-person event for Grayson.
The online campaign exceeded the $10,000 goal and is now well above $20,000.
Not bad for a kid who was selling lemonade for $2 a cup in his driveway.
More Celebrity Endorsements
Besides being a keen lemonade salesman, Grayson also loves to hop behind his drum set in his driveway to "drum up business."
His drumming skills recently got the attention of blink-182 drummer Travis Barker.
According to an article from Entertainment Tonight, Barker learned about Grayson's Lemonade Stand from his son. A short time later, the two had a jam session together.
Entertainment Tonight says Barker made a massive donation to the lemonade stand in addition to setting Grayson up with some of his drumsticks.
The online fundraiser for Grayson's lemonade stand is still open and accepting donations,. The Dream Machine Foundation says 100% of the donations will go to Grayson.
Celebrity Couples Whose Breakups Broke Our Hearts
Here are 25 iconic celebrity couples that definitely made us shed a tear when they went their separate ways.
Top 10 Disney-Inspired Baby Names
Below, discover the 10 most popular baby names inspired by beloved Disney characters.