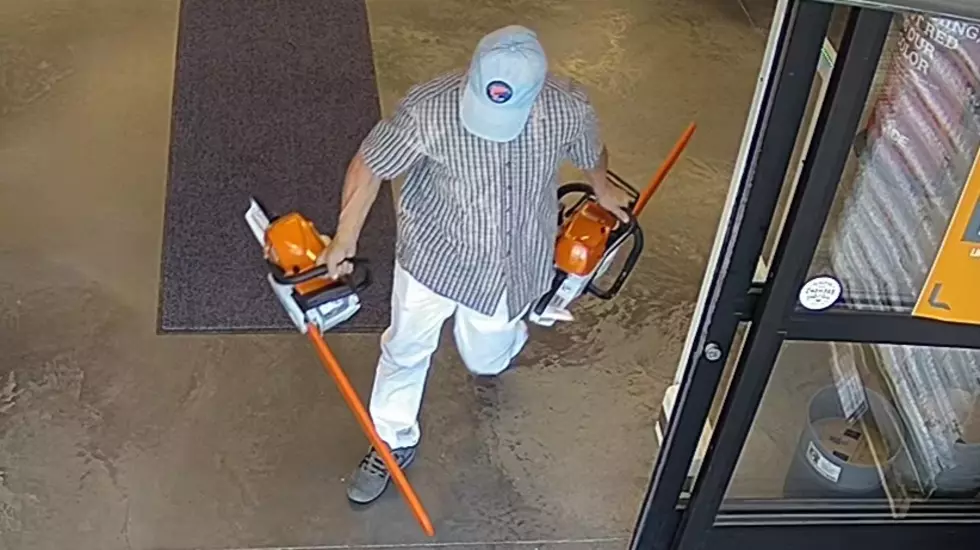 Thieves Get 5-Finger Discount at Local Gallatin Valley Business
facebook.com/Manhattanmtpd
The Manhattan Police Department is asking for help from the public to locate two thieves that reportedly stole several items from a business in the Gallatin Valley.
According to a post shared on the Manhattan Montana Police Department Facebook page, law enforcement is searching for a male and a female wanted in connection to several thefts at Manhattan Ace Hardware.
Among the items stolen are two chainsaws, with a total value of $1,500. Footage of both the male and female was captured on security cameras. A vehicle associated with one of the thefts was also caught on camera.
Here's what the Manhattan Police Department shared on Facebook;
There have been several thefts from the Manhattan Ace Hardware. If you recognize any of the pictured individuals, please let the Manhattan Police Department know. The female stole over $500 worth of items. The male is associated with the green Honda, he stole two chainsaws over $1500 in total value. He was later involved in a theft at the Belgrade Ace Hardware as well.
Law enforcement is asking for any information that will help bring the thieves to justice. Find pictures of both suspects below.
Female Suspect
Male Suspect
The green Honda appears to have body damage on the driver's side front fender. The gas cap also appears to be missing. If you or anyone you know has any information that would be beneficial to the investigation, please contact the Manhattan Police Department at 406-284-6630.
Montana's Missing Children - August 2022
These are all the missing children in the Montana Department of Justice Missing Persons Database that went missing in August of 2022. Their photos will link to their info page so you can report any information regarding these children. Let's help bring them home.
10 Incredibly Boring Towns To Avoid in Montana
Not every town or city in Montana is as glamorous as you might expect. So we compiled a list of the most boring towns you should avoid while vacationing or traveling around Montana.
10 Things True Montanans Would NEVER Do
If you claim to be a Montanan, there are some things that you just can't do. Otherwise, you may draw some looks from your fellow Big Sky Staters. Here are ten of them.