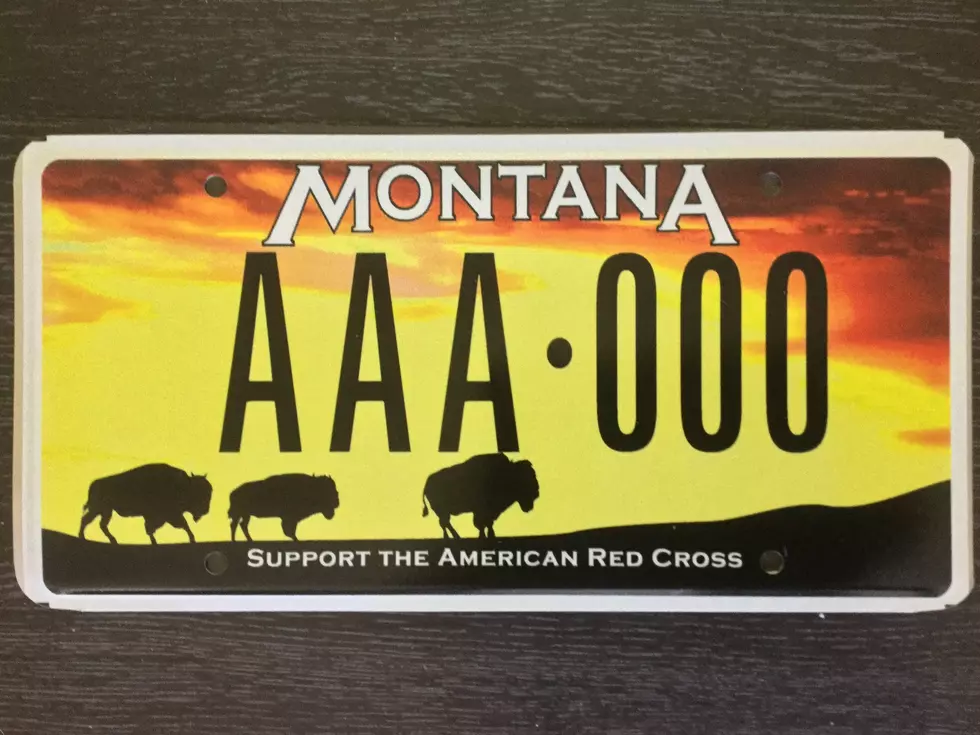 20 License Plates Banned in Montana You Will Love
American Red Cross of Montana via Facebook
The sheer amount of combinations of letters and numbers people come up with for their license plates is impressive.
If you register your car in Montana, you have multiple options when it comes to picking your plates. Typically people will get the normal blue Montana license plate, but there are other options that you could pick. There is the Montana Centennial plate, or you could spend more money and get a license plate where part of the proceeds goes toward a nonprofit.
Then some folks want to send a message with their car license plate. People come up with crazy combinations of letters and numbers to display their names, mottos, or something funny. The real question is figuring out what combinations of letters and numbers are banned in Montana.
We found that list of banned license plates in Montana, and it's a long list. Montana has banned over 4000 different combinations of words and letters that you won't be able to put on your license plate.
Looking over the list of banned license plates, there are some incredible combinations folks have come up with in the past. Then some license plate combinations should be allowed. So we found the twenty license plates that Montana should allow to be used by anyone with a vehicle.
007BOND-Is this banned because you will get sued, or James Bond wouldn't be caught dead driving a Ford Fiesta?
34GREG-If my friend Greg wants to put his name on his license plate and tell everyone how old he is, let him have it.
800NICE-This license plate looks like a ridiculous phone number and doesn't hurt anyone.
BALLIN-If anyone gets this plate, it's on a rusted-out 90's Honda Accord.
C0WBOYS-Why is this license plate banned? It makes zero sense.
COWPIE-My coworker and I laughed for a solid minute at this license plate. If someone wants to show off their love for cow poop, it's fine.
FROGGER-If a person loves the 80's video game this much, let them have it.
G-That's it. They banned the letter G. There are other single letters not allowed.
H2O-There are people who love water, and they should be able to put this on their license plates.
ITSFUN-This might be the most harmless license plate, but it's still banned.
LMAO-Who banned this license plate? It's harmless.
MEATMAN-The only person who should be allowed to own this plate is the owner of a butcher shop.
NOFEAR-Many 90s kids would want to have this as their license plate.
OLSKOOL-I could see many car collectors rocking this license plate on their vintage car.
RATSSS-Someone must hate rats for this plate to be banned.
S00NERS-If you are an Oklahoma Sooners alumni or fan, they should be able to have this license plate.
SH0RTY-I could see someone's girlfriend getting this license plate. It's not offensive.
STINK-The owner of this plate should be someone with a rusted heap or a diesel truck.
TIFF-Someone is trying to incur the wrath of any Tiffany that lives in Montana.
WAH00-A teenager with his first car had to be the person who got this license plate banned.
These twenty license plates show that sometimes the government doesn't like for locals to have fun. There are other license plates we could list, but I would lose my job.
See the list of all 4,100 license plates banned here.
7 Great Montana Destinations to Visit in 2023
Want to experience all of the beauty that Montana has to offer? Check out these must-see vacation destinations.
15 Important Items For Your Montana Winter Emergency Travel Kit
Life in Montana means being prepared for any type of weather. During the winter months, it's important to keep these items in your winter emergency travel kit.
Top 5 Hazardous and Deadly Roads in Montana
Here's a list of the most dangerous roads in Montana.