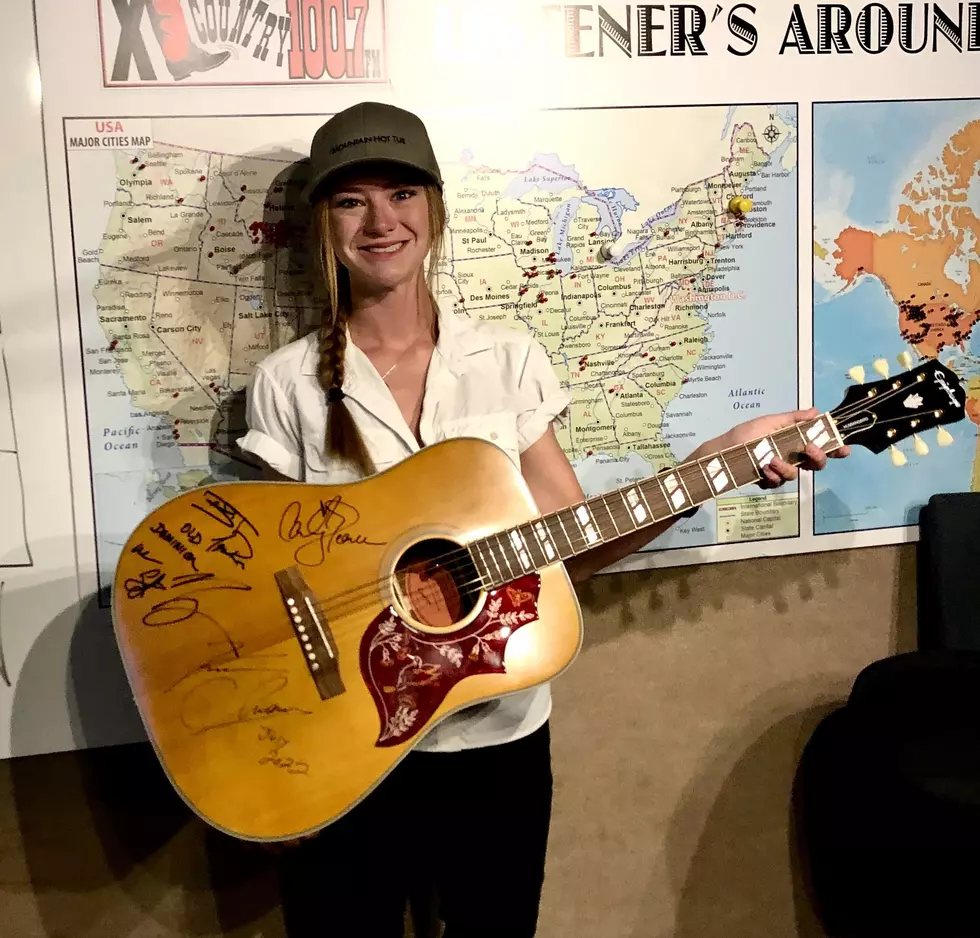 Ready To Be Inspired? Check Out This Montanan's Heartwarming Story
Credit: Townsquare Media Bozeman
If you are fortunate, sometimes in life, you get to witness something that no matter how hard you try, you can't find the right words to describe it.  I had one of those experiences this week when I met Olivia and I'm not sure I will ever be the same again.
Let me rewind just a little bit and give you the back-story if I might.
As most of you know, Kenny Chesney was in Bozeman last week for a sold-out show at Bobcat Stadium. There were over 24,000 fans in attendance and I was there as part of the XL Country Pre-Show Party.
We had our prize wheel out and we were giving away all kinds of things, one of the prizes being a guitar autographed by Kenny Chesney, Old Dominion, and Carly Pearce.
Our friends over at Music Villa went above and beyond when they donated a beautiful Epiphone Hummingbird guitar and then the folks with Messina Touring Group helped us out in a big way when they had all of the artists sign it.
Fast forward to this Wednesday when we drew a winner from our entries. As always, we picked a random winner and it just so happened to be Olivia from Bozeman. We announced Olivia's win on the XL Country Morning Show and then contacted her. Olivia showed up right after our show was done and we had the chance to take her into the studio to see the guitar for the first time in person.
What happened next was something that I will never forget.
I took the guitar out of the case and explained to Olivia that this was an Epiphone Hummingbird guitar and that Ephiopne was owned by Gibson which of course, is located in Bozeman. As I was going on being my normal guitar geek self, she started to cry, and then Olivia told us her story.
"I bought those Kenny Chesney tickets back in 2019 as a birthday present for my mom," she said.
Of course, as we all know, the concert had to be postponed twice due to the pandemic, and Olivia's mom, Michelle, would never make it to the show.
Olivia revealed to us that her mother passed last year, and that they'd always had a special connection with hummingbirds. "One of her favorite things was hummingbirds, they just always had a presence in our life, so when I saw that hummingbird on the guitar, I just lost it." Olivia said.
It still gives me goosebumps when I think about it. I lost my mom almost two years ago, and my Dad passed away a few months back. I certainly don't know or understand all of the mysteries of the world, but I know that the heavens or the universe or whatever you want to call it, no doubt had a hand in who got this guitar, and I'm just glad I was there to witness it.
Check Out the Best-Selling Album From the Year You Graduated High School
Do you remember the top album from the year you graduated high school?
Stacker
analyzed
Billboard
data to determine just that, looking at the best-selling album from every year going all the way back to 1956. Sales data is included only from 1992 onward when Nielsen's SoundScan began gathering computerized figures.
Going in chronological order from 1956 to 2020, we present the best-selling album from the year you graduated high school.
The Best Country Singer From Every State
Some states, like Oklahoma and Texas, are loaded with famous country singers. Others, like Nevada and Maine, are still looking for a real breakthrough artist. See the best and most successful country music artist from all 50 states, starting with
Hank Williams
and Alabama.